October 29, 2013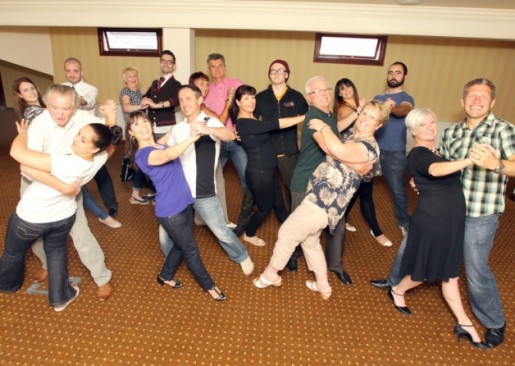 On Friday 18th of October Lakelands Hospice, once again supported by MaSh Dance, held their annual Strictly Corby competition. Ten local celebrities were partnered with professional dancers and set the challenge of performing three dances for points on the night as well as raising as much money as they could along the way.
Participating this year were:
Cathy Langtree & John Hands
Janet Bew & Alex Turigel
Judy Cain & Stuart Hales
Victoria Julian & Jake Mannion
Janine Mulligan & Anthony Bazin
Frank Lo Presti & Ann Wood
Stuart Wessleby & Marye Simmons
Martin Brown & Laura Scriven
Joe Georgeson & Maria Pegg
Tim Linnell & Liz Rogers
Every couple did a fantastic job on the night and it showed as Lakelands have now confirmed over £20,000.00 was raised in total, which is the highest amount ever raised!
There could however be only one winner, and they were Tim Linnell (Thomas Hair Oakham) and his professional partner Liz Rogers who scored a maximum fifty points for their show dance with straight tens across the board. Second place went to Victoria Julian (RS Components) and and her professional partner Jake Mannion, with Janine Mulligan (Seatons Solicitors) and and her professional partner Anthony Bazin coming in third.
Tags: charity, corby, lakelands hospice, strictly
Categorised in: Charity, Community, Events