August 23, 2013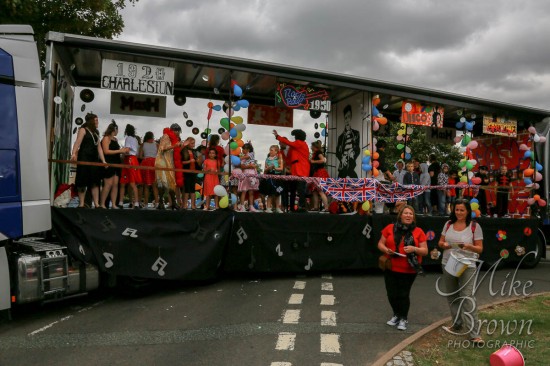 So believe it or not it turns out we are suckers for punishment, another week, another carnival to enter. 07:30 seems to be a time on a Saturday when only birds and carnival float dressers seem to be out and about, and here we were again. The theme from Corby was carried over, that being 'decades' but this time we had added even more in the way of art work and decoration.
With a crew of four (and two part-timers!) we went about constructing our masterpiece…and five hours later it was ready. Upon arrival at the starting point it was great to see so many people had made an effort in dressing up, and after some last minute balloon blowing up, the float was full of people dancing away.
This year the judging was being carried out differently, in that it would take place while the procession was going on. This meant everyone on the float had to just keep going and going all the way round – of which they did an amazing job!
Competition was stiff with a reported forty entries in total…
…and well we did it again, FIRST PLACE in our group and FIRST PLACE overall!!!!!
A huge thank you to everyone involved, from planning to painting, driving to dancing, you all did your bit brilliantly and a TREBLE of carnival trophies this year is testament to your effort.
Tags: kettering, kettering carnival
Categorised in: Community, Events